I am delighted to share my review today for Sapphire by Heather Burnside. This is a gangland crime thriller and part of The Working Girls series, but this book can be read as a stand-alone.
My huge thanks to Andrew Knowles for getting in touch regarding this Aries Fiction publication via NetGalley.
TWO SISTERS ALONE.
Sophie and Kelsey have always had each other. When their mum is diagnosed with cancer and their dad fails to step up, they're forced to move into the care system. But Sophie knows they'll be okay as long as she's there to protect her sister.
ONE FINAL CHANCE.
But when Kelsey is found a foster family and Sophie can't join her, Sophie's left in an unsafe situation in the home, forced to do things against her will. Finding her own foster family feels like a relief, but it's short-lived when her trust in her new foster parents is betrayed.
NO GOING BACK.
With nowhere to turn, Sophie finds herself homeless. But when she finds her new street family, Sophie joins the working girls and her new identity as Sapphire is complete. It's a hard life working the streets, especially when those around her look to take advantage, but can the dream of one day finding Kelsey keep her going?
MY REVIEW
This is an author who is new to me and so I was intrigued when I saw this book. Even though it is part of a series it is one that can be read as a stand-alone.

Sapphire is the name of Sophie, older sister to Kelsey. Life goes from bad to worse for the pair when their mother dies and their father wants nothing to do with them as he has a new family. The girl's des[erately want to remain together but it is hard to find places for teens, so when Kelsey is offered a place with a foster family Sophie lets her go.

As the story continues life for Sophie doesn't go the way it did for her sister, the two slowly drift. The point where Sophie becomes Sapphire is further in the story. It is a heartbreaking story and one that was tough to read. Unfortunately, it is one that could very easily be true. It is the story of how a teen finds herself alone, on the streets and homeless.

The author has given a very harrowing account of Sapphire and her experiences, the hardships the dangers and the addictions. It is one way of showing how living in a nice warm and comfy home can go wrong and that all the things that follow are a downward spiral.

The author takes the reader into a world of poverty, drugs, destitution, prostitution and death. It is not a pretty world or a nice one to read about. All the while I thought this is how easy it could be if you are completely alone and think you have no choices or options. It does have a grim reality to it.

This is a gangland styler crime thriller, it is brutal and does explore various aspects of homelessness and living as best you can. It is quite an addictive read and one I found very difficult to put down. It is one I would recommend.
Check out the other stops on the Blog Tour…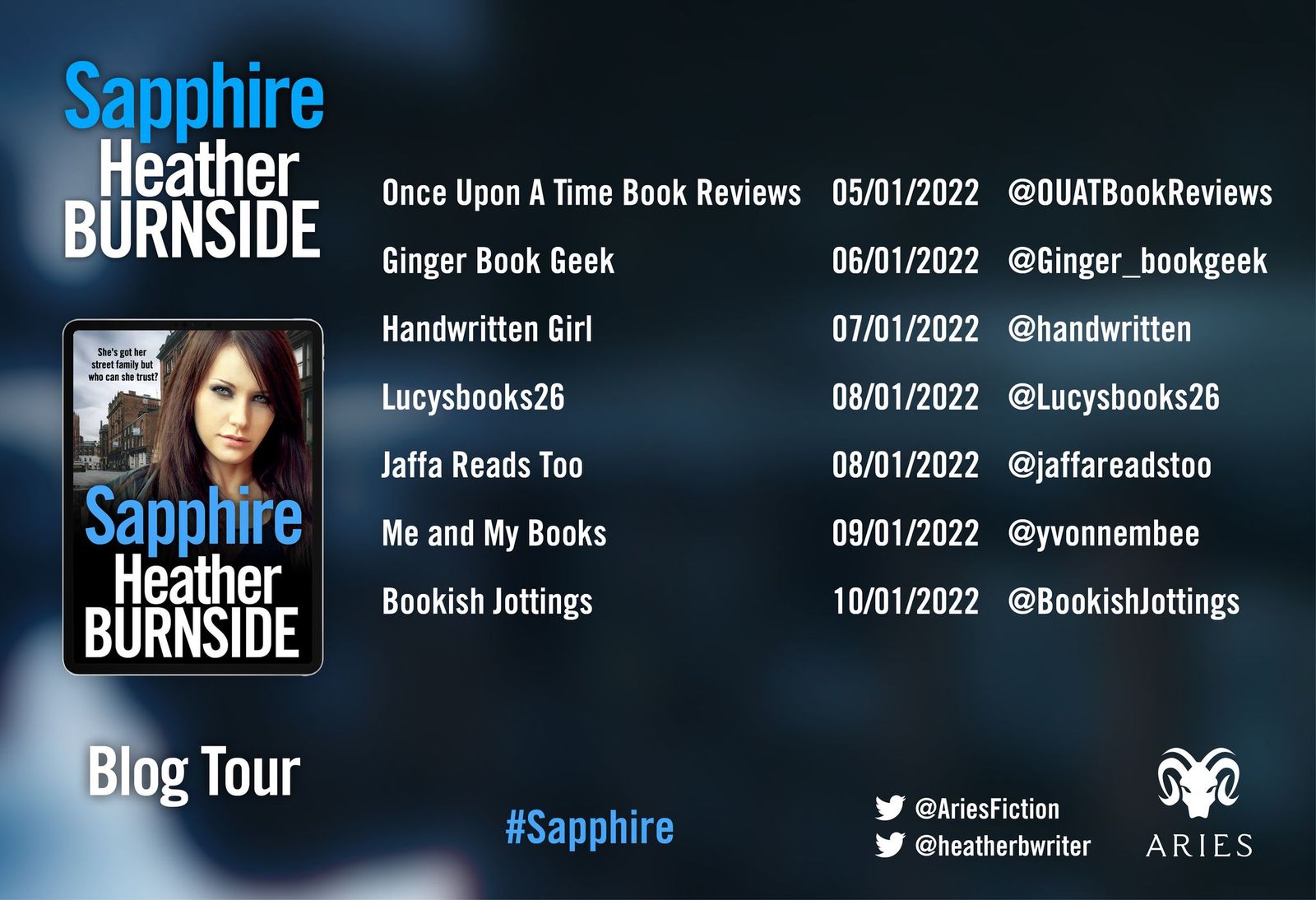 Many thanks for reading my post, a like or share would be amazing 🙂 xx