I am delighted to be sharing my review today with you all for The Puppet Show by M.W. Craven.
You see those author quotes on the front cover … Yep they are all true!!!
So let's have a look and see what this fabulous book is all about…
A serial killer is burning people alive in the Lake District's prehistoric stone circles. He leaves no clues and the police are helpless.
When his name is found carved into the charred remains of the third victim, disgraced detective Washington Poe is brought back from suspension and into an investigation he wants no part of.
Reluctantly partnered with the brilliant but socially awkward civilian analyst, Tilly Bradshaw, the mismatched pair uncover a trail that only he is meant to see. The elusive killer has a plan and for some reason Poe is part of it.
As the body count rises, Poe discovers he has far more invested in the case than he could have possibly imagined. And in a shocking finale that will shatter everything he's ever believed about himself, Poe will learn that there are things far worse than being burned alive… 
I had read so many great reviews about this book from fellow Book Bloggers that I had to get myself a copy.
My verdict… WOW!!!!!! I should have read it as soon as I had bought it!
If you have read the synopsis then you will realise that this is dark. It is also so brilliantly written right from the very first page to the very last page. You will get to meet to fabulous characters in Washington Poe and Tilly Bradshaw.
I love Poe and Bradshaw, they are so different and the dynamic between the two of them is an absolute pleasure to read. Their contrasting personalities soon becomes obvious as you get to know them. I loved how Poe tones himself down when he is around Bradshaw, and how she is picking up some of Poe's confidence.
The plot is an absolute dream to read, it is deliciously dark, devious, sinister and deceptively twisted. It has procedural elements but is based around Crime Analysis and the National Crime Agency. I have to say this route gives a different investigative approach than the usual police procedural ones and it has been worked really well by the author.
I liked that Poe is unused to the terminology used by Bradshaw so needs it to be put in basic terms for him to understand, it made it easy for me to understand as well 🙂
Now the other thing I really enjoyed about this story was the extra character …Cumbria… the Cumbrian landscape played such a wonderful part in creating the atmospherics and added such a sense of drama to the story.
I am so looking forward to getting to know more about Washington Poe and Tilly Bradshaw and can't wait to read more.
This is a dark, crime thriller story with a fabulous plot, characters and flow. It gets a Highly Recommended from me.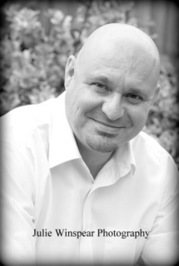 M. W. Craven was born in Carlisle but grew up in Newcastle, running away to join the army at the tender age of sixteen. He spent the next ten years travelling the world having fun, leaving in 1995 to complete a degree in social work with specialisms in criminology and substance misuse. Thirty-one years after leaving Cumbria, he returned to take up a probation officer position in Whitehaven, eventually working his way up to chief officer grade. Sixteen years later he took the plunge, accepted redundancy and became a full-time author. He now has entirely different motivations for trying to get inside the minds of criminals . . .
M. W. Craven is married and lives in Carlisle with his wife, Joanne. When he isn't out with his springer spaniel, or talking nonsense in the pub, he can usually be found at punk gigs and writing festivals up and down the country.
---
Many thanks for reading my post, a like or share would be great 🙂 xx